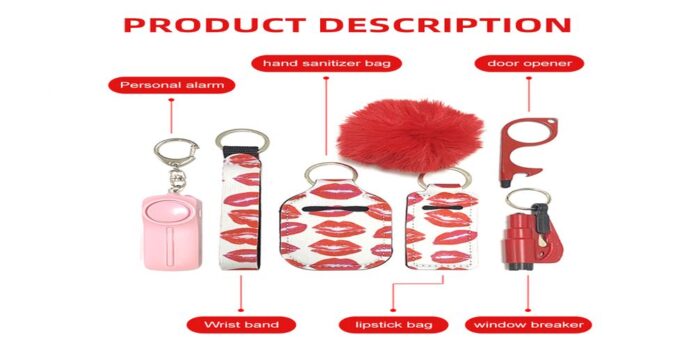 In this wacky and unpredictable world, it is imperative that you take precautions to safeguard yourself against various threats. The most effective piece of personal protection equipment is a keychain equipped for self-defense. You will have a better chance of surviving and more time to get to safety if you bring along self defense keychains that is highly portable.
Different Types of Self Defense Keychains
There is a wide variety of styles available for use as self-defense keychains. Pepper sprays concealed in a bright pink case or studded with rhinestones can be difficult to detect. A small folding knife can be concealed in a case that mimics the appearance of a house key or a portable, miniature version of an alarm system.
Kubotan, Crafted in the Classical Japanese Style
The Japanese Kubotan design is a baton-like stick that is small enough to fit in your hand and is a very popular choice for a weapon to use in street fights. It is possible to construct it using aluminum, solid steel, or high-impact plastic.
These keychains are designed for self-defense and have a blunted, pressurized tip that can be used to stab an adversary or strike out at an aggressive dog. They are easy to conceal in your hand and are a great way to protect yourself. Some extremely useful tools may also come with additional spikes, giving users access to two different weapons in a single device.
Pepper Sprays
Pepper sprays of the traditional variety are utilized by law enforcement professionals worldwide. These sprays have the ability to incapacitate an adversary in a short amount of time and bring them to their knees.
Women, especially students who want to be better equipped with innovative college safety practices, have a number of great options to choose from when it comes to pepper spray. There are other types of pepper spray, but they are not as effective.
It is a fantastic idea to equip pepper sprays with a unique ultra-violet (UV) marking dye for the purpose of identifying potential perpetrators, which can be helpful in bringing them to justice. The drawback of using pepper spray is that it has the potential to cause blowback, and the pepper insert will eventually need to be replaced.
Mini Foldable Knives
A knife attached to a keychain and explicitly designed for self-defense can be folded down to an extremely compact size when not in use. Because it can be folded into a very small and compact size, and because the blade is very sharp, it will discourage an attacker from attempting to use it against you. The miniature knife has a wide variety of uses and can even be put to work in other cutting-related activities. The only catch is that you won't be able to take it on an airplane with you. Other than that, everything else is perfect.