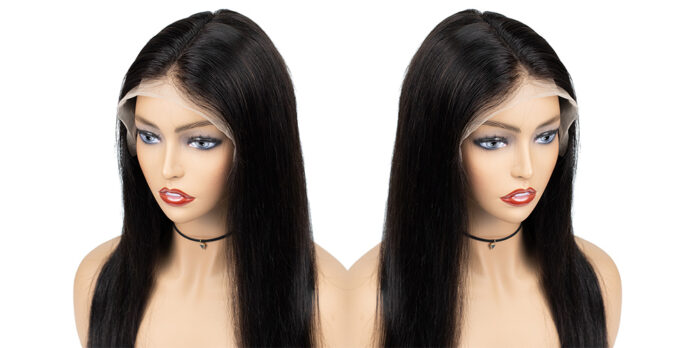 A 4×4 lace wig is a great option for those who are looking for a natural looking wig. However, many women are unsure of what skin tone a 4×4 lace wig will suit. A 4×4 lace wig is a beginner's wig allows you to part 4 inches across and 4 inches back and forth.
With so many colors of wigs available, it is very confusing to choose the right one which compliments your complexion. So, let us take a look at what skin tone a 4×4 lace wig will suit and how to choose the right one for you.
Different Skin Tones For Wigs On Women
For selecting a perfect wig, you must know what color family your skin tone belongs to.
1. Warm Undertones
Warm undertones include yellow, peach, red and gold. People having warm-toned skin looks great in warmer shades of cool colors like orchid, olive. They can choose dark mocha, cinnamon, amber, honey, chestnut or chocolate-colored wigs as they like. These colors will look great on you if you are having fair or medium complexion skin. To enhance your style, you can go for wig that has highlights of the above-mentioned colors rather than full wig in the same color.
Colors to Avoid
Although warm undertones are compatible with most of the colors, there are some colors that should be avoided. They should avoid violet, blues, jet black or platinum-colored wigs as these colors won't compliment their look.
2. Cool Undertones
Cool undertone includes blue, pink and reddish tones. If you have cooler undertone, you should try wigs of icy blondes, ashy brown, honey, beige, grey or Alburn. These wigs neutralize your skin tone and doesn't appear flashy. In case you want to stand out, go with the bold colors like reds and purples to give a stunning look apart from the normally seen hair colors. These vibrant color wigs are mostly preferred by young teens to make them look jazzy with their cool outfit. It doesn't matter how short or long your hair is, as long as you have the confidence to wear them.
Colors to Avoid
Golden, orange or warmer colors will not blend with cool skin tones. It can really wash you out. Perhaps highlighting strands may help you look a little less odd.
3. Neutral Undertones
Neutral undertone is a blend of both warm and cool tones. People with neutral undertones look great in neutral shades, so opt out colors that are neither too bright nor too dark.  Beige blonde is a perfect for neutral skin tones as it falls between warm and cool blonde. It will bring out your true complexion and give you the natural look you desire.
Colors to Avoid
Yellow, red or any bright colors may look so odd on you. However, if you wish to wear such colors, try light shades of these colors.
Conclusion
On keeping these in mind, you can opt for the color of wig that best suits your skin tone. Ishow Hair has a wide range of wigs in different shades for every skin tone that can help you enhance your appearance in a more stylish manner.