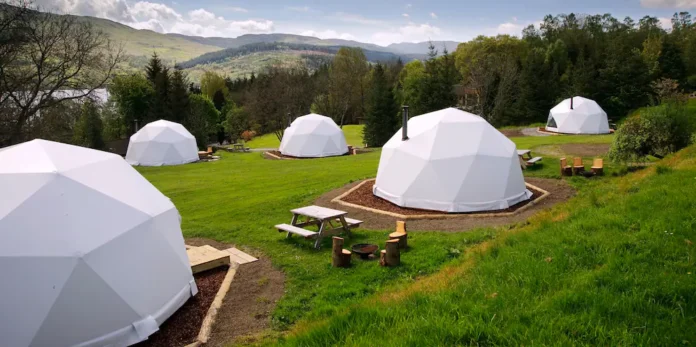 It's so easy to get a new tent, but not so simple to improve the aesthetic of your current one. There's nothing more frustrating than spending all that time and effort setting up a beautiful home on the camping grounds with a poor-looking tent.
The glamping dome is perfect for those looking to spruce up their current tents without spending too much time or money. With its light, durable design and convertible roof, you'll feel like you're camping in style and outfitted with the latest fashion trends by putting your current tent in the back of the truck.
Glamping dome is an off-grid luxury dome tent perfect for a camping adventure or bringing the comforts of home for a weekend getaway.
Benefits Of Glamping Dome
There are many benefits to a glamping dome compared to a canvas tent. It has a lot more space and room than a traditional tent. It is easier to set up and takedown because of its dome shape.
The glamping dome has been designed with comfort and can be used as a private dining room or a chill-out area. It makes it completely self-standing, without the need for guy ropes or stakes in most cases. Some benefits are such as:
· Domes Provides Good Air Circulation
A glamping dome's structure creates a safe environment where you do not have to compete with outside elements for clean air to breathe. Glamping domes provide 360-degree air circulation around the structure, which results in good air quality, especially during hot and humid weather.
The air circulation system used in our Glamping Dome works by providing a good wind flow inside the dome. Air enters through small intake vents at the bottom of the dome and flows around the space through radial openings on the wall panels.
· Glamping Dome Ensures Frame Stability
The glamping dome is a sturdy and durable dome tent. It ensures frame stability, which is the key to keeping it sturdy and standing firm in all elements. The glamping dome comes with thick and sturdy stays for poles, which are sewn into the tent's fabric.
These stays pull on the poles outward to help prevent them from snapping in high winds or heavy rain. They also prevent the pole joints from stressing the rest of the tent fabric or seams at their weakest point.
· Easy To Carry
One of the best ways to make your camping trip easier might surprise you: bringing along a glamping dome. Not only does a dome tent help you stay safe from insects, but it is also easy to carry when compared to traditional tents.
The pack has backpack straps for easy carrying and storable wheels to roll it over nearly any type of terrain with ease.
· Less Time Construction Period
A glamping dome tent needs less time to assemble, like no longer than an hour. No need for a crane. Cranes are costly to rent and require large spaces to place them. The assembly is easy; the parts snap together using a ratcheting system.
It allows you to connect multiple sections, making it a quick install process. Its round shape allows for fewer time construction periods for a permanent structure that is also perfect for festivals, camping, etc.